Hi everybody
I would like to welcome you all back to the 2018 sailing season.  It has been a long cold winter, so, I hope, you are all looking forward to a warm summer of sailing in Glandore Harbour. Hurricane Ophelia and Storm Brian came to visit, so it might be a good idea to have your moorings checked before the crane-in date of the 12th May.
I hope you are all looking forward to a busy sailing season.
Dragon Class Captain
---
Please follow this link to read about the Dragon Nationals 2016 by Afloat magazine. Our new Class Captain sailed on the boat that came second. What an achievement, Kevin!
---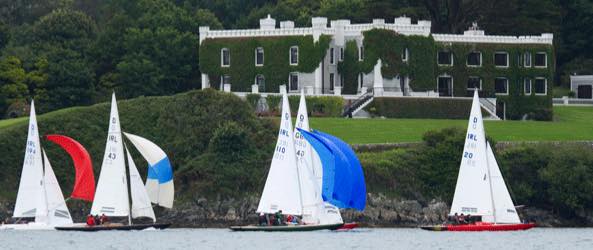 What is a Dragon?
The Dragon was designed by Johan Anker in 1929. The original design had two berths and was ideally suited for cruising in his home waters of Norway. The boat quickly attracted owners and within ten years it had spread all over Europe.
In 1937 the Gold Cup was presented to the class by the Clyde Yacht Club Association. This quickly became one of the principal championships in the class and a prestigious trophy in the world of competitive yachting. The Class went from strength to strength being an Olympic class between 1948 and 1972. The popularity of the class has not waned through the years, the 75th anniversary was celebrated with great style and panache at St Tropes in 2004 and this year, the 85th Anniversary of the Dragon is being celebrated with many Regattas around the world.
"Friendly Dragons of Sweet Glandore" published in the Afloat, 2015, Autumn edition. Thanks to valuable contributions by Kieran O'Donoghue and Don Street, with pictures by Kathleen Hayes and Mary Casey, and to W. Nixon for crafting the piece.