Background
In the 1970's and early 80's one of the feature events of the South Coast Sailing Calendar was the Crosshaven – Fastnet – Baltimore race for the bigger IOR boats, and the Crosshaven – Baltimore race for the smaller classes.
The race commenced with an 8pm start in Crosshaven on Friday of the June Bank Holiday weekend, boats from Cork Harbour and Kinsale participating, the race finished in Baltimore on Saturday where the crews relaxed and enjoyed pints in Bush's, Teddy Browns and the old Baltimore House Hotel after their overnight exertions.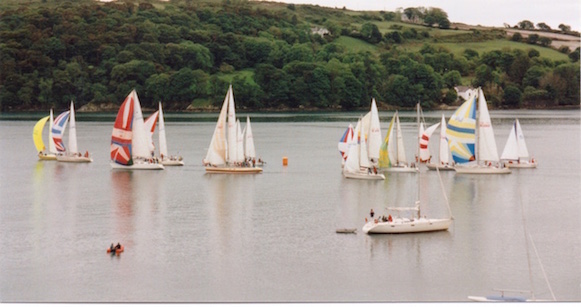 Then it was back to business on Sunday with a race from Baltimore to Kinsale for the "Crohogue Jug", after an overnight in Kinsale it was time to disperse with the Cork Harbour boats returning to Crosshaven and Cobh
Overall a long weekend, Friday to Monday, lots of racing, lots of pints, lots of fun for the lads. But, not much fun for the ladies who were left at home on the Bank Holiday weekend with the children who were facing the impending Exams.
These factors together with safety considerations for the boats and crews particularly on the long overnight races often in heavy weather and a growing lack of enthusiasm for sitting on the weather rail in wet and windy conditions led to changes in the Racing Schedule.
Race Format
The new race schedule introduced in the late 80's involved :-
Race from Crosshaven to Glandore on Saturday of the Bank Holiday (FG 08:00).
Race from Kinsale to Castletownshend also starting on Saturday morning.
Both of the fleets converged in Glandore on Sunday morning.
Glandore At Home Regatta
The Regatta was held on Sunday of the Bank Holiday weekend, the start line was inside the harbour under the village, with racing off shore again finishing within the harbour at the Club line, in front of the pubs giving the onlookers a grandstand view of proceedings.
The At Home Regatta often attracted fleets of up to 35/40 boats, the event was upgraded in the early 1990's when the results became part of the South Coast Offshore Racing Association (SCORA) schedule.
Glandore village would be "a buzz" with activity for the weekend with all the visiting boats and crews, traditional music in Casey's, The Sundowners in the Glandore Inn and the usual Disco in the Marine.
There was the usual BBQ in the street with music ….
There were some great finishes to the Crosshaven to Glandore race the most notable being the great battle for the line between Moonduster (Denis Doyle), Rambler (Martin Dooney) and White Rooster (Jim Donegan),and some others with Moonduster eventually taking the honours.
Calm settled in the village on the Monday morning when the visiting boats departed for their respective    home ports with a race for both fleets to Crosshaven and Kinsale respectively.
Notable participants in the Glandore At Home were some famous Boats and Owners including :-
IMP – George Radley
Mayhem – Tom Mc Carthy
Midnight Sun – Charlie Ryan
White Rooster – Jim Donegan
Moonduster – Denis Doyle
VSOP – John Godkin
Irish Mist – Jim Mc Carthy
IT IS TIME TO REKINDLE THE BUZZ
Source: Kieran O'Donoghue