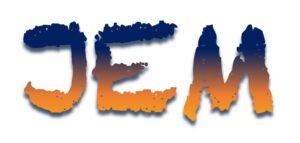 Two Topaz were delivered last week to round out the new sailing school fleet. This pair didn't hang as heavily on the Treasurer's finances however due to the amazing fund raising efforts of three entrepreneurial young club sailors. Jess Tubb, Emma Barrett and Muireann Creswell, the JEM Team.
During the summer of 2021 the girls began an enterprise to manufacture and sell their own range of jewelry with the funds going towards the purchase of new boats for the GHYC Dinghy Fleet. Incredibly, the girls raised over six thousand euro from their endeavour ! To mark the achievement GHYC had specially commissioned JEM branding created for these two boats so that their origins will always be remembered while they are with the Club. The girls did a ceremonial  reveal of a JEM branded  Topaz at Saturday evening's At Home Regatta BBQ to the applause of both Club members and our Kinsale visitors
Well done and thank you very much girls, on behalf of the membership.
Tim Forde. Commodore