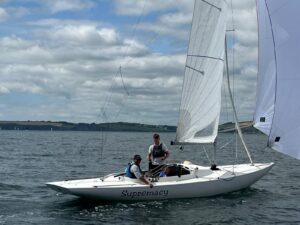 It was with some dismay that we learned earlier this year that our Vice Commodore and Health & Safety Lead, Lee Miles, was leaving for a number of years to take up a position in the Middle East. Lee has been invaluable asset to the Club, on and off the water. Lee has a skill set and depth of professional knowledge, that was brought to bear at a time when it was especially appreciated for the good management of the Club.
Lee, while a lifelong boater, is a latecomer to sailing who has taken to the sport, well, like a duck to water. Lee plunged straight in at the deep end travelling to the Isle of Wight and buying the Dragon "Supremacy". Lee represented GHYC at the recent Dragon Nationals in Dun Laoghaire along with son Eolann.
Lee and Eolann are regulars in the Dragon fleet, and when not aboard Supremacy, Lee's wife Carla is most often seen helming a safety boat or volunteering in some other capacity at the Club. We are delighted to announce that Carla has been persuaded to take on the role of Vice Commodore, in the interim. Carla was Co-Opted by the Operational Committee at the September Op-Comm meeting on 15.9.22 to fill the role of Vice Commodore until the 2022 AGM.
Carla is an educator, with extensive training in first aid and emergency response and is a Helm with the Toe Head Coastguard unit and a qualified Powerboat Instructor who brings a wealth of specialist professional experience and training to the role. Carla is well placed to advise the Club and Sailing School, day to day, as well as in event planning. We hope that Carla can be persuaded to stay on in the role in 2023 and we congratulate Lee on his promotion and wish him every success. We look forward to seeing the whole family racing their Dragon in Glandore next year, during Lee's holidays, in preparation for a Gold Cup entry in 2024!
Tim Forde. Commodore