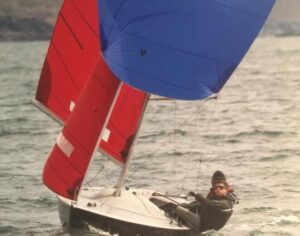 Location: Kinsale, County Cork
This boat has a good racing record.  
Floor boards and buoyancy recently replaced with hardwood marine ply. 
Hull, keel and decks newly painted.
All coamings upgraded and painted.
New halyards, traveller, blocks and sheets.
Good suit of sails.
Shooting spinnaker pole.
Very good aluminium braked Trailer with suspension and good tyres.
Boat is ready to race.
Price:   €4100.00
Contact: Victor Fusco. 
phone: 0872485674
e mail: victorfusco23@gmail.com