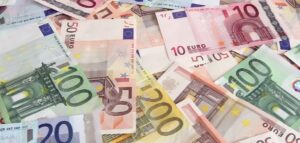 As the summer draws to a close and everyone has tidied up  we wanted to let you all know who won the E1000 raffle prize.
We had the draw on Saturday 27th August in Mary Ann's at the Karen Horgan Memorial Race.  It was a lovely day if a bit low on wind but everybody finally made it over. We were lucky enough to get Fiachra Goulding, Karen's son off the water to pull the winning ticket and he pulled Orla Sheehan's name. Orla, Club stalwart and merchandising guru, was present and happily took receipt of her cash prize.
A big thanks to everybody for their support and we raised €1600 on the raffle.
So a great summer and how good was it to be able to get out, socialise, meet old friends and make new ones, something that we all cherish so much post Covid. The Club continues to prosper but for this we rely on everyone's support in so many different ways throughout the year.
Happy sailing and stay safe.
Glandore Harbour Social Committee