We struck it lucky this year with the weather. The course organisers anxiously monitored at the weather forecasts in the week running up to our traditional Halloween Instructor course. In the light of the approaching Storm Ciaran we wondered about the prospects of getting on the water for the week.
This time around, however, we got lucky and while a sizeable chunk of Europe was battered by Ciaran, we were able to sail every day, using our fleet of Topper Topazes and RS Quests.
The course was enthusiastically run by Irish Sailing trainer Kenny Rumball of the INSS  .
These courses are great fun and everybody learns a pile of stuff about how to teach different people how to sail.
The instructors delivered sessions throughout the week on subjects included in the SBSS, such as:
knot tying,
weather forecasting,
tidal curves and gravitational pull,
lee shores
and the importance of the 5 essentials, 4 for you keelboaters,  as a tool to analyse the efficiency of your sailing
and more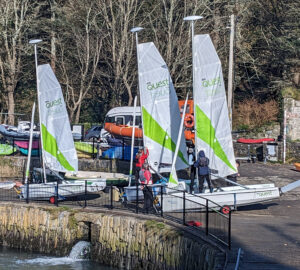 Dave Harte came along on Friday to make sure everything was progressing according to plan and gave tips based on his long association with sailing in Ireland.
A great week was had by all, and we go into  winter enthused by the possibilities that sailing has to offer.
We are all looking forward to next year's season when they can put these skills to good use training the next generation of GHYC sailors.