2019
Sailing in Glandore
With GHYC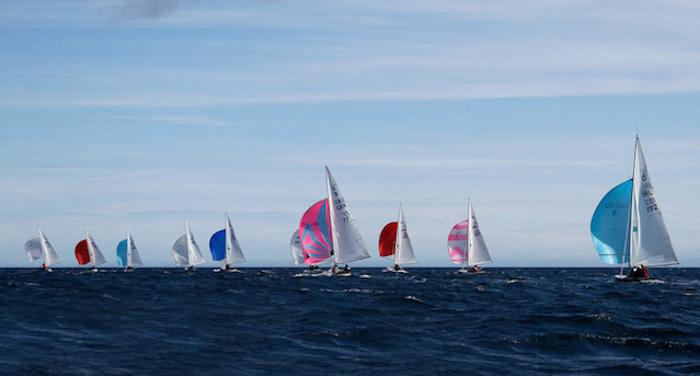 The Sailing Season at GHYC will soon be with us, it is always comforting to see the inner harbour being populated with Boats at their moorings, it is definitely the sign that things will be happening soon on the water in Glandore.
The season will start with the usual Dragon Golden Sail on Saturday May 18th. With Midweek (Wednesday) racing starting on June 5th. Then throughout the season until September both the Dragon and Squibs will be sailing every Wednesday evening and Saturday afternoon. There will be Dragon and Squib racing on certain Sundays but these will be for special events and more information can be found on the club *  Calendar
* Just a note about the GHYC Calendar, to keep up to date with the clubs activity and any changes that may occur during the season , why don't you subscribe to the Calendar, and automatically get all the updates on your Smart Phone/Tablet.
The Dinghy fleet will start to race this year in April and will continue throughout the season, the Dinghies race on Tuesday and Thursday evenings after the ISA courses have finished for the day.
The GHYC School Sailing program starts in June for the local schools and continues for those interested with racing on Wednesday evenings through July & August.
Cruising boats are warmly invited to join in for the At Home and Glandore Regattas, in addition to the Castletownshend and Rabbit Island cruises.
This year the Club is hosting the 2019 Irish Dragon South Coast Championships regatta.
Irish Dragon Nationals : GHYC has the largest fleet of Dragons in Ireland, and we are proud to be hosting this event in 2019, we are looking forward to welcoming our guests from around the country and hopeful of a great turn out. The event racing is from August 30th to September 1st.
The At Home Regatta… this year GHYC expects visitors from RCYC, KYC  & SHSC, so we can expect a busy harbour with lots of activity in the Village.
A Summary of all the Clubs events for the year can be found on the Events page on the website.
The Club are always on the lookout for Crew to take part in League and other racing events, if you are interested please contact the specific Class Captain (as below) or you can contact me directly. Of course if you are around the Club and or the Pier and there are members around please ask them directly.
We will also be asking for members to volunteer to join the Race Officer team so that the club is better prepared to hold more racing events with more Race Officers available to the club.
If you need any assistance in regard to GHYC /Sailing/Racing events please do not hesitate to contact one of the contacts as below.
Finally, enjoy the sailing, whether you are racing, cruising, just relaxing and having fun, but KEEP SAFE and please be mindful of others on the water around you.
Hal Andrews
GHYC
Sailing Secretary
 Rui Ferreira –  Dragon Class Captain 
Rory Doyle – Squib Class Captain
TBA – Cruiser Class Captain
Tim Forde- Dinghy Class Captain