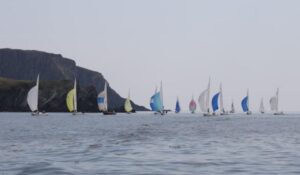 In normal years the Lar Casey Cup is sailed on the Saturday of the Glandore Regatta but for the 40th Anniversary the event was expanded to two days with 3 races Saturday and 2 on Sunday. The local fleet of 11 Dragons was boosted by 8 visiting Dragons from Dublin and Kinsale some of whom were previous winners of the Lar Casey Cup.
The conditions on Saturday were very light for racing outside the harbour but Race Officer David Forde, assisted by Mary O'Sullivan and Emily Jane O'Mahony, was able to set the windward leeward course and got in the scheduled 3 races. Race winners on the day were Moonshine and Mar J (2) and overall leader Mar J. For the last race of the day after the second general recall the black flag was raised and Phantom and Aphrodite were called out and sent home early.
On Sunday the conditions were even lighter but the fleet was sent out to sit through a one hour postponement until a sea breeze 4-5kts appeared. The course was set in the outer harbour with club mark Goat as windward mark and a finish in the inner harbour opposite Casey's Bar. The breeze dropped soon after the start and made it a challenge to get to the windward mark. For the run it looked like the middle of the harbour was favoured with more breeze but the boats that hugged the shore fared better. Race winner on the day was Pongo, a previous Lar Casey Cup winner. Mar J finished 4th to secure overall winner. Mar J helm Adrian Bendon, a long time previous resident of Glandore, sailed as crew on Pan, winner of the first race for the Lar Casey Cup! Crewing on Mar J was Shawn Kingston, also a previous winner. A list of all the previous winners is at https://glandoreyc.com/trophy/dragon/
Casey's Bar sponsored the event and provided all the prizes for individual race winners and the overall 1st, 2nd, and 3rd, with a special prize for oldest wooden boat, Gypsy, sailed by Don Street, also a previous winner of the Lar Casey Cup. Dinner on Saturday night and snacks on Sunday prize giving were also provided by Casey's Bar. Commodore Tim Forde thanked Mary, Patrick and Lar Casey for their very generous support of the event. Thanks were also expressed for the RC team and the many volunteers who made the racing possible and to Richard Bradburn, Paul Hardy and Rob McCarthy for the use of their RIBs.
Class Captain
Overall results at https://halsail.com/Result/Public/64744
Photos of prize winners by Mary Casey
Lots of pics by Kathleen Hayes of the 'action' on Sunday