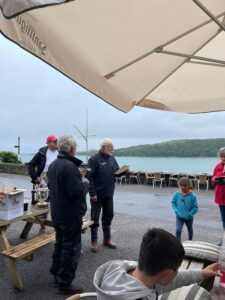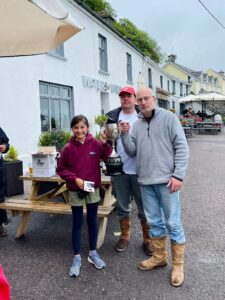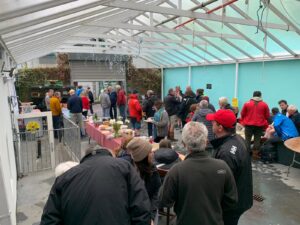 The At Home Regatta and associated social events have been victim to the Pandemic for two years now but made a welcome, if truncated, return this last weekend. The passing of a weather front saw local racing cancelled but a valiant Kinsale fleet set out running before a stiff easterly breeze making it to Glandore (almost) unscathed. Old acquaintances were renewed and it was great to have the Kinsale fleet back in the Club and in the Village.
From early Saturday a team led by Social Secretary Myriam O Connor began the mammoth task of turning the Club yard into a social venue for Saturday evening's BBQ. We had washers, sweepers, BBQ engineers, gas donors, salad makers, fish parcel wrappers, burger flippers, bar tenders, washers up, money takers and many many tasks completed by so many volunteers that we can't name them all but you know who you are. The team effort paid off and a feast of epic proportions was served up in good company. Big thanks to Diarmuid O Donovan of  Glenmar Shellfish for providing the fish for the event.
Sunday morning dawned misty and unseasonable but Race Officer David Forde & team were out early to set up at Sheela Point to  get the fleets racing in very shifty and changeable conditions to eventually complete four races. Jamie Frame's Moonshine, who had been sitting on the trophy since winning it in 2019, vied for dominance with John Wyles' Aphrodite until Race four when a poor final leg saw Moonshine drop back to 5th as Aphrodite stormed through the fleet to win race four and the trophy.
The two Squibs who ventured out raced the same courses simultaneously with close racing between Hal  Andrews' Kingfisher and Sean Thompson's Trojan. Trojan carried the day with novice sailor  and crew Zaiba Mahmood winning the trophy for Squibs in her first Squib event, well done Zaiba.
Dragons: 1st Aphrodite. J Wyles, P Hayes, A Kinderman.
2nd Moonshine. J Frame, T Forde, A Forde.
Squibs: 1st   Trojan. S Thompson, Z Mahmood.
2nd Kingfisher. H Andrews, M Potenz.