It was a running start for both fleets with a 'new' course back to Glandore Harbour, set by Kieran O'Donoghue. The course took the Squibs north of High Island, the Dragons south, then both fleets south of Adam, Eve Island to starboard, Kilfinan mark to port, Union Hall mark to starboard, finishing at Harbour mark/club mast line.
Phyloong unfortunately found Copper Rock on the fetch to High Island hitting it with a resounding crash, and dropping back from the leaders. Everyone one else was lucky to miss it as it was on the rhumb line Skiddy Island to High Island.
As the fleets came in to Glandore Harbour to round Kilfinan the wind died and it became a challenge and lottery rounding Union Hall. Placings were lost and gained sailing to the finish line.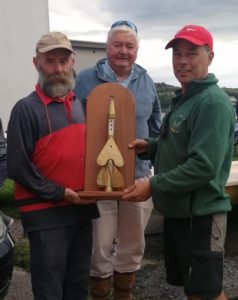 At Glandore Pier Kieran presented a new perpetual Dragon Trophy, an antique ships log, to race winner Pongo.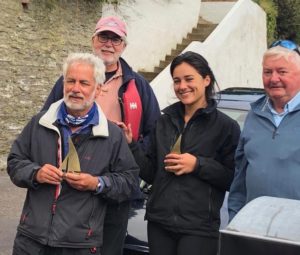 Squib race winner, Kingfisher, was presented with two brass sailboats. All the winners and runners up were presented with prizes donated by Fergal Goulding.
All the results are on the Racing page of GHYC website.
Photos of the Trophy winners and the fleets racing to Glandore Harbour. Thanks to Kathleen Hayes for the Photos.