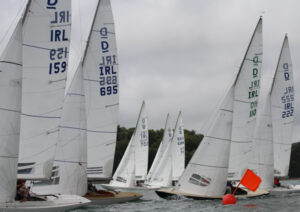 The Heineken Celtic Challenge 2023 V Royal Anglesey Yacht Club opened with dinner for the teams at the GHYC Clubhouse on Friday June 16th courtesy of our sponsors and the dedication of Social Secretary Myriam O Connor assisted by Sally Wyles and team. 
Racing commenced on Saturday 17th with coastal racing to Castletownshend. An excellent start and skillful sailing saw Moonshine helmed by Welsh sailor Alistair Dickson, former RYA Director of Sport Development, show a clean pair of heels to the fleet from the off, to lead all the way to the beacon at Castletownshend. The notoriously fickle conditions on entering Castletownshend saw the run quickly transition to a beat. Shore hugging tactics and quick drills saw GHYC's Aphrodite and Pongo break Welsh hearts by sneaking through inside in the final few hundred metres to steal 1st and 2nd place and R.1 victory. Both teams adjourned to the familiar welcome at Mary Ann's where host Fergus presented with his customary cheer and generosity to the competitors. 
Swapping boats after lunch, the crews set themselves homeward following the start by RO Diarmuid O Sullivan. Alistair Dickson, now helming Zu, and determined to overturn the morning's disappointment, tacked away early onto a long port tack in clear air to secure his exit from Castletownshend, hunted all the way by GHYC's Ian Woolward on Supremacy. Dickson showed his class however and crossed the line in Glandore with over two minutes lead on the fleet. Royal Anglesey's 1,3,5 securing R.2 victory and leaving the event tied after two races. Day one of racing was concluded with a great dinner for both fleets at the Glandore Inn.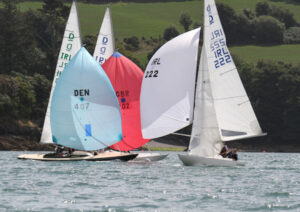 With a win for each fleet on Day 1, Sunday's in-harbour racing meant a clean sheet start for each side effectively. Four races, windward/leeward using the permanent marks were planned and achieved. Grim forecasts of torrential thunderstorms and similar did not dare materialise with the fleets carving their way into the freshening southerly breeze in a scene that looked more akin to the Greek Islands than West Cork as witnessed by the great racing images of Kathleen Hayes (aka Beken of Roury Glen!) and the amazing drone footage of Heather Mahmood.  
Round the cans maestro Diarmuid O Donovan on Pongo struck early for GHYC with R.3 victory seconds ahead of second placed Leah with RAYC Helm Martin Hartley.  Isle of Wight G.P. and RAYC sailor Dr. Dominic Breen Turner had excellent race wins in races 4 & 5 helming both Magic and Aphrodite in sequence. 
These sequential wins gave competitors afloat a strong impression that the result would come down to the wire but ashore the numbers were resolving themselves conclusively into a solid GHYC victory which was sealed by R.6 victory for Ian Woolward on Supremacy, two minutes ahead of the 2nd placed RAYC boat.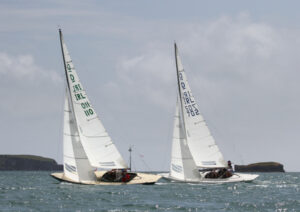 The competitors retired immediately to a prize-giving graciously hosted by Patrick Casey and Family at Casey's Bar. It was here that Sailing Secretary Hal Andrews revealed the full picture on the scoring with GHYC securing The Challenge by a margin of 4.5 to RAYC's 1.5 and RAYC Fleet Captain Alistair Dickson presented the Celtic Challenge Trophy to Dragon Class Captain John Wyles.  
Both teams, friends and family reunited later for a beautiful meal on the terrace at Hayes Bar to close out an incredibly competitive and enjoyable weekend. The genuine friendship that has developed between the Clubs was much in evidence with  conversation frequently drifting to talk of Celtic Challenge 2024 and plans for crossing the pond to Beaumaris next summer. 
Congratulations and well done to all the race management and safety personnel without whom the event would not have been possible and to the Dragon owner's for turning over their prized possessions to their Welsh competitors, The boats used were Aphrodite, Leah, Magic, Moonshine, Pongo, Phyloong, Supremacy and Zu.  We wish again to thank our event sponsors at Heineken Ireland for their support. For full race results click HERE.

Tim Forde Commodore