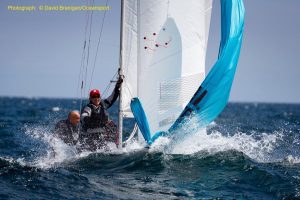 The 2019 Irish National Championship was hosted by Kinsale Yacht Club between June 26th and 29th. Five boats from GHYC made the trip up the coast: Aphrodite, Kim 2 (Rob, with a crew of three young ladies), Magic, Moonshine and Phyloong.
17 Dragons were entered with crews from Dublin, Kinsale and the UK competing for the beautiful trophy and bragging rights of course! Dragons have not taken part in the Sovereign's Cup since 1999 – unusual as the Dragons have been in Kinsale for over 20 years!
Conditions on Day 1 were lumpy with an unusual easterly breeze of about 16 to 20 knots. It was hard going, but exhilarating sailing. GHYC results were Moonshine: 8th and 9th, Aphrodite: 12th and 10th, Phyloong: 10th and RET (equipment failure), Magic: 14th x 2, Kim 2: DNC x 2.
Unfortunately racing was cancelled for the entire Regatta on Day 2, as the winds were too strong. A rest day wasn't totally unwelcome to get over the exertions of the previous day!
Moonshine made the Irish times again this year!!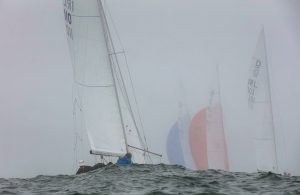 Day 3 was notable for the weather conditions – starting off with low mist, drizzle and a gentle breeze. During the race, what started off as a run to the leeward gate, finished up a beat! Some excellent seamanship was demonstrated by the crew of Magic. They navigated through the very low visibility (and most of the fleet), to take an excellent second place. Results were Magic: 2nd, Moonshine: 9th, Aphrodite: 10th, Phyloong: 14th, Kim 2: sensibly DNC.
The Dragon fleet dinner was this evening – I think all who participated will agree this was one of the social highlights of the week – excellent food, company and craic!!
Day 4 conditions were lovely if a little shifty! The water was relatively flat, the breeze about 12 to 17 knots and the sun was out! While the top boats were fighting it out, the Glandore boats were busy trying to beat each other!! Results were Aphrodite: 9th and 10th, Moonshine: 7th and 11th, Magic: 13th and 14th, Phyloong: 14th and 15th, Kim 2: DNC and 16th.
Overall results (after discard) for the Glandore boats were as follows:
Moonshine 10th (33 points)
Aphrodite 11th (41 points)
Magic 12th (43 points)
Phyloong 14th (50 points)
Kim 2 16th (70 points)
In summary, I think it is fair to say that everyone from GHYC who attended, really enjoyed the event and we all came away a little wiser.
HUGE congratulations to winners Team Phantom who did a phenomenal job of consistently maintaining great boat speed and tactical awareness. The Dublin boys maintain the Irish National Trophy. Also a hearty WELL DONE to the Cork lads in Serafina who came in third (Brian Goggin, Daniel & Sean Murphy).
Finally, a big thanks to photographer David Branigan for his kind permission to use some of his great photos of the event.
More of his work can be found here:
https://www.david-branigan.com/
http://www.facebook.com/David.Branigan.Oceansport