In memory of our late ex-Commodore Karen Horgan, who sadly passed away 16th March 2020, Fergus of Mary Ann's Bar and Fergal Goulding organized and sponsored prizes for the Squib Mary Ann's Shield race to Castletownshend, postponed earlier in the year. The trip to Mary Ann's was a big favourite of Karen's as it was such a great social event and she would not have been disappointed. Despite Fergus's zealous enforcement of the Covid rules, a great time was had by all. Prizes were also generously sponsored for the Dragons.
Race Officer David Forde set the two fleets off from Glandore Harbour in a north easterly breeze with an initial short beat to windward to avoid a running start. It was a challenge for some of the Dragons to round the windward mark without collisions! There were no protests, so it was good clean fun. Karen's son, Fiachra, sailed on Sinner and her brother, David, sailed on Leah
The Squib Mary Ann's Shield was won by Golden Eagle (Jo Good & Rory Doyle), with Kingfisher 2nd, Sinner 3rd and 4th Tequila Chaser.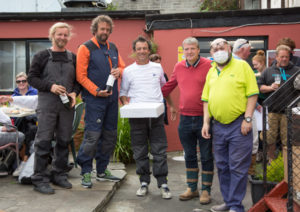 First Dragon was Phyloong, closely followed by Aphrodite 2nd, Pongo 3rd and Panache 4th
All the results are on the Racing page of GHYC website.
Photos of all the prize winners and the fleets racing to Castletownshend. Thanks to Kathleen Hayes for the photos.