Just an update on our recent social activities.
On Sunday last we had a really lovely 'evening with a difference' on the lawn at Sally and John Wyles's charming garden. Younger members of the Club joined to serve Prosecco, beer and delicious homemade canapes to a sun-drenched group of members. It was a memorable evening and we are very grateful to John and Sally for their generosity in providing us with this special venue. An extra bonus to the evening was that €1,650 was raised.
The following day, sixty brave souls decided to risk the weather and off went the picnic gang to Rabbit Island.  Despite a light sprinkling of rain it was great fun and some hardy people ventured in for a swim. However this year we had no one to take on the challenge to swim out. Next year maybe??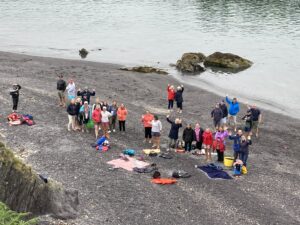 Then on Friday, the Fundraising Walk was held starting from the Club. Whatever calorific  benefit was felt from the walk was soon undone with all the delicious scones, breads and cakes that were provided by members.  A lot of hard work was done but a special mention has to go to fantastic work done by the younger members who excelled at baking, making jewellery and keyrings to sell and helping to set up and serve. It was so reassuring to see the enthusiasm and ability of everyone.  The future of the Club is certainly looking very safe if these events were anything to go by. Happily this event raised €2,040.
We look forward to seeing you all out and about and particularly at the Dinghy Derby on Sunday, August 8th.
Many thanks for your support and don't forget the raffle tickets are for sale on the website or from Myriam at 087-7806437.
Social Committee
GHYC