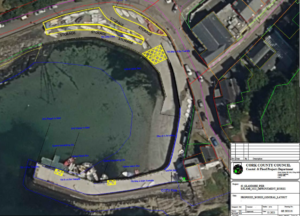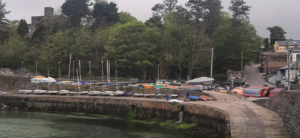 On Sunday 8/5/22 as young people gathered for the Spring Dinghy League at Glandore Pier it was easy to envisage the practical implications of the proposed plans to curtail activity at the pier.
The entire area as proposed as "Storage" is already full of kayaks, dinghies, punts, safety boats, a coastal rowing boat and some small motorboats all owned by local people and Clubs. Several dinghies, out of necessity, are already positioned for use on the pier itself as always. This is before any visitors arrive in the area or the Sailing School even opens for Sailing Courses. The proposal as circulated would mean that no young person attending a sailing course could therefore bring a dinghy or take part. This is the simple reality and is just a function of square footage and lack of development. These young, and not so young, people do not store their boats on the pier, they store them carefully at home and bring them to Glandore where they are staged for use during the summer months to learn, train and compete, and then taken away again.
A picture speaks a thousand words they say, pictures are attached of the proposed "Storage Area" drawing and also of the same area, totally full on the 8th of May. While GHYC and other Clubs might survive this proposal, anyone can see that the Sailing School cannot, if participants are not allowed bring their boats.
Operations Committee. Glandore Harbour Yacht Club