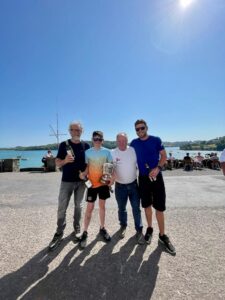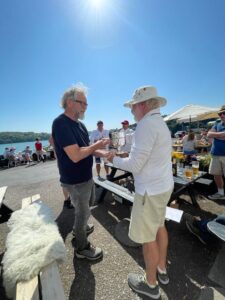 Absolutely cracking conditions again greeted the Dragon and Squib fleets this morning for day two of the 2023 At Home Regatta. As racing preparations began it was evident that several of the visiting Kinsale fleet had opted to extend their stay following last night's social gathering. The continued fair weather lent an almost Mediterranean flavour to proceedings in the Harbour.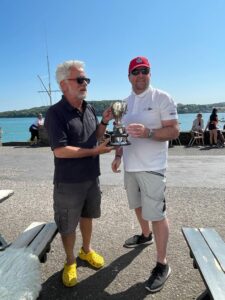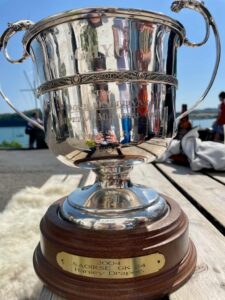 The Race Committee set a beautiful windward/leeward course out to Adam and back to Union Hall, two rounds, the same course repeated for race two with the familiar voice of  our friend, and visiting Regional Race Officer, Siobhán Keane Hopcraft counting down the seconds. Supremacy, in the skillful hands of former British Olympian Ian Woolward sailed a flawless and consistent regatta, with practiced crew Kevin Hayes and Eolann Miles, to clinch the Donie O Sullivan Memorial Cup just ahead of  Jamie Frame's Moonshine. Ian has retired to Castletownshend recently and joined the fleet over the past winter, appearing initially at Dragon Sheds in Casey's Bar, and GHYC are delighted to see Ian on the water, passing his considerable skills to a new generation, well raced and well done Team Supremacy !
The Squib fleet was a bit depleted with issues such as bearing failure (wheel bearings!) but still had two very competitive days sailing. Sailing Secretary Hal Andrews had a perfect record with four bullets with crew Margaret Potenz/Rory Doyle. The second step on the podium being occupied by Barry Speight's Nimble.
The Club again wish to thank all the volunteers throughout the event, race management, safety boats, burger flippers, salad makers, water taxi, fuchsia providers, fish mongers, petrol shippers, BBQ scrubbers and the myriad other tasks without whose completion the weekend wouldn't have been such a success. Thank you all, and well done to all the competitors from first to last and thanks to all our visitors from Kinsale YC for their generous support of the Club BBQ, and all the gifts which were very much unexpected.
See you all on Wednesday for Club Racing as we prepare for our next event, the 2023 Heineken Celtic Challenge. GHYC V RAYC
Tim Forde. Commodore