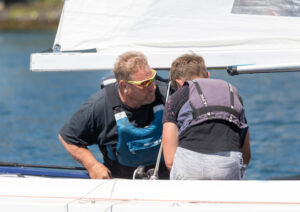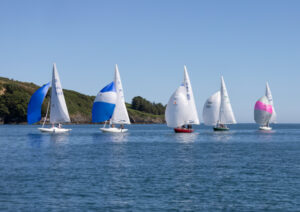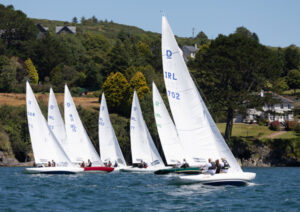 The Dragon Derby was founded by Don Street in 1987. The the 14 races of the 35th Derby were sailed over weekend 9/10 July. After 7 races on Saturday in very challenging light winds in the inner harbour 3 boats were tied on 17 points, Zu, Moonshine & Sonata.
The wind freshened on Sunday, much to everyone's pleasure, to 10-12 knots from south east giving the race officer David Forde a chance set some longer courses. The racing was very competitive throughout the fleet with 5 boats winning at least one race.
Kevin Hayes, with Deidre Potenz and Paul Beechinor, demonstrated all he had learnt from Diarmuid O'Donovan to keep their scores low and move Sonata to the top of the leader board on 24 Points including 4 race wins. Runners up were Phyloong 28 points and Moonshine 30 points.
Don Street presented the decanter to Kevin, Deidre & Paul outside the Glandore Inn. It was immediately filled with Mount Gay rum to be drank in time honoured fashion, straight from the decanter. So many sailors enjoyed their tot that a second bottle was dispatched.
Class Captain
Photos by Kathleen Hayes