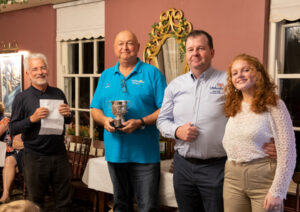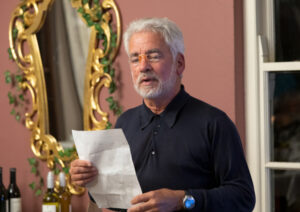 Club members, new and of long standing, and from all fleets, came together at the Leap Inn on Saturday evening last for the usual Laying-Up Supper and prize giving. A fantastic meal was served up by Ann Sheahan and Staff. This was one of the last opportunities for a Club social event before winter.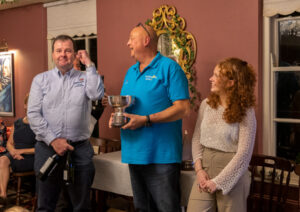 Sailing Secretary and MC Hal Andrews called on Dragon Class Captain John Wyles who gave an excellent season report packed with detail on the season's racing. Trophies for the three Dragon Leagues of 2022 were awarded. Evening League, Summer League and Golden Sail. The results were very close with Team Moonshine (Jamie Frame, Tim Forde & Aisling Forde) narrowly winning each hotly contested league to make a clean sweep of the trophies. In second place, and hot on their heels in every league, were Team Aphrodite (John Wyles, Peter Hayes, Axel Kinderman). Moonshine Helm Jamie Frame in accepting the three league trophies commented on how close the racing had been all season and the increasing quality and competition among the local fleet.
In a 1st for GHYC, Eolann Miles was awarded young sailor of the year for a second year running. Eolann represented GHYC in Dinghies, Dragons, and Fifes in 2022 in Angelsea, RCYC, and in Dun Laoighre in both Dragons and Team Racing. Eolann was also a weekly competitor in Dinghy and Dragon locally and a regular willing servant of the Club.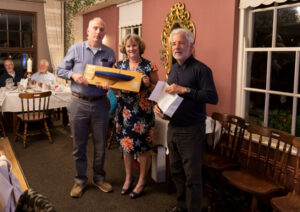 Team Trojan, Sean Thompson & Mary Casey, wrapped up a very dominant 2022 Squib Season by collecting the Squib Summer Cup to add to their season trophy haul. Nimble were second in the League.
A big thanks to our Dragon Captain John Wyles for all the work involved in organising such a successful and enjoyable event.
Tim Forde. Commodore GHYC.