It is with sadness that we must report that there appear to be plans to allocate funds to soon fence off the old historic pier at Keelbeg Union Hall rather than invest in repairs. Outside of the commercial, social and leisure use of the pier and its historic importance, the pier stands silent as a symbol of the community, and the seafaring heritage of the locality. The Pier is a listed sight on the Wild Atlantic Way. The enduring presence and emblematic natur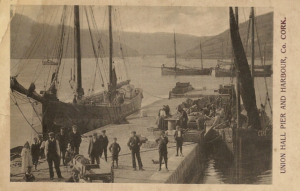 e of the Pier in the locality is reflected in its central placing in the series of paintings commissioned by Paul & Aileen Finucane that many of you may know from visiting CUH over the years. More information on the project and book see here.
Plans apparently involve 2.4 metre high palisade fencing in the middle of the pier that will see this iconic location appear more Guantanamo Bay than Wild Atlantic Way.
Christopher O Sullivan T.D. FF has appealed to the local authority to consider using these funds instead for repairs and asks that people appeal individually to Cork Co Council on this matter.
email: customercare@corkcoco.ie
The Harbour Users Group represents all local people and all user groups in a spirit of  positive cooperation to inform and assist with all development in the harbour area. They will hold a Public Meeting next Tuesday March 28th at Union Hall Community Hall to inform people concerned of what is known currently.
Commodore GHYC