The safety and welfare of all our members, staff, volunteers and local community has always been a priority so following a short pause in Club activity on Friday, to assess emerging events, activity resumed yesterday Saturday 21st August 2021 with the successful running of the Karen Horgan Memorial Race to Castletownshend. Fair weather and a great sailing breeze from the southwest greeted the fleets with ten Dragons and eleven Squibs turning out. RO David Forde started the fleets off on a windward leg to Union Hall mark and Diarmuid O Donovan's Pongo gained an impressive lead in this short leg which saw him lead the race start to finish. Dave Sheahan's Too Dee saw off the combined assault of Trojan and Kingfisher to take victory in the Squib fleet. The fleets were joined by members in RIBs and cruisers and Peter Roberts' classic wooden launch for a great afternoon in the sunshine at Mary Ann's. Fergus O Mahony spoke fondly on his memories of Karen and other club members unavoidably absent or unwell. Following the prizegiving, and socially distanced banter, battle was rejoined on the water. Rui Ferreira disrobed and swam under the keel of Phyloong in what is apparently a Portuguese tradition to ensure good luck for the race ahead.
The combined fleets roared down the Big Sound in a building breeze running under a press of sail. The conditions served up very tight racing with numerous boats in contention, especially in the Dragon Fleet. As the Dragons hardened up at Sheila Point under a building breeze several boats were knocked down with cleats giving way on others leading to flailing poles and out of control kites with one Dragon broaching and picking up a string of lobster pots and towing it north before the gear was expertly jettisoned by the crew in on the limit conditions. Kites were dropped and it was anyone's to win as four Dragons vied for the lead, Phyloong, Laurus, Zu and Sonata. Following the refreshing 'taking of the waters' in CT, Rui and crew in Phyloong took the day as the four Dragons crossed the line within seconds of each other having raced all the way from CT, testament to the sport to be had from One Design Racing. Normal service was resumed for the Squibs with Too Dee crossing just ahead of Sean Thompson's Trojan to make it a clean sweep for the day for Dave Sheahan and crew.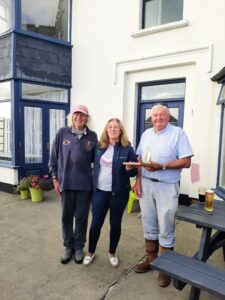 Race management, mark laying and safety cover for both fleets were again provided seamlessly By David Forde and Elaina Norris with the ever helpful Zack and Harrison Carr. Well done everyone one a safe and thoroughly enjoyable days racing.